Teardrop Diamond Ring Styles For 2019
February 22, 2019, Alyssa Bruni
Know the upcoming beautiful teardrop diamond ring styles for 2019 at Fascinating Diamonds! The year ahead is predicted to flicker between luxurious Halo, artistic Vintage and classic Solitaire designs for the teardrop diamond. Explore some of our favorite teardrop diamond ring styles for the upcoming year below!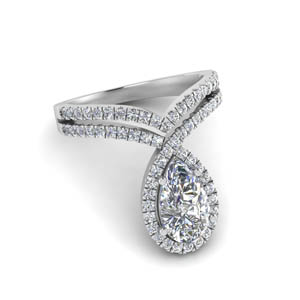 The halo style surrounds the center diamond, with a disc of smaller stones making the diamond appear significantly bigger. These are considered the best match for pear shaped diamonds as it enhances their unique cut. It is also trending and has made its way into the lives of quite a few famous personalities, which means it's at its peak right now and the demand will only go up from here.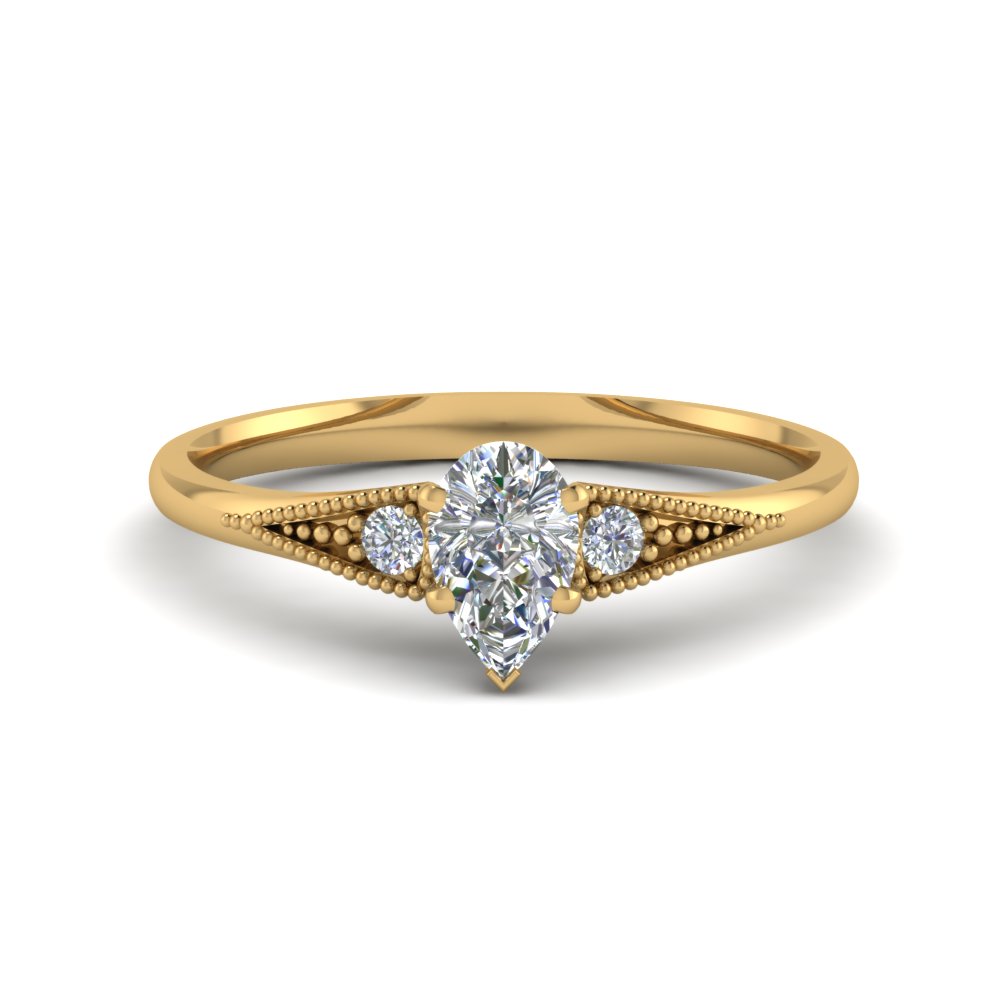 The three stone style is a classic choice preferred by most as it accentuates the style factor of the ring while holding a deep meaning as it signifies the time periods in a relationship. Pear shaped side stones are the most unique yet sophisticated side stones as they add a distinctive and rare charm to the look of the ring.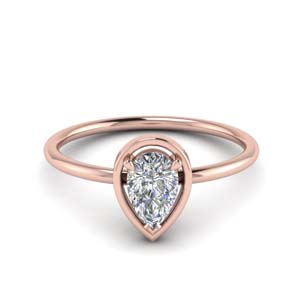 The solitaire style is an iconic yet elegant style to carry a pear cut diamond as they allow the most light to reflect resulting in added brilliance for the dazzling diamond which is the prime focus of the ring.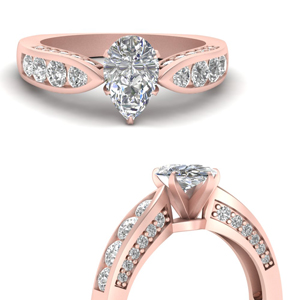 The vintage ring style signifies a timeless charm with attractive motifs and engravings. The pear shaped diamonds look extremely precious in a vintage ring style. This ring beautifully blends the modern diamond cut along with a vintage touch offering you a captivating look.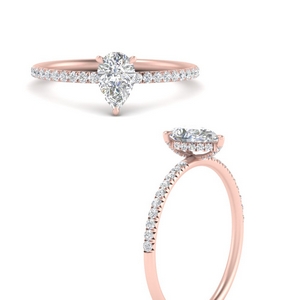 The under halo ring style is the new trend-setter. Displaying a halo of smaller diamonds resting beneath the center stone in a hidden setting, this is an extravagant style adding a classic edge to your look. The lovely pear shaped diamonds add another element of luxury and glamor to the ring.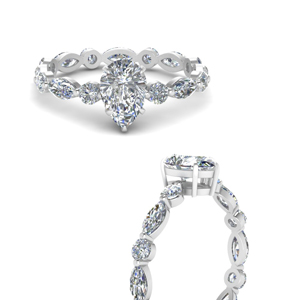 The alluring pear shaped side stone engagement rings will make you feel graceful and glamorous. A teardrop shaped pear cut diamond along with glittering gemstones, ranges from 1 carat to 5 carat weight and captures the essence of your pure love.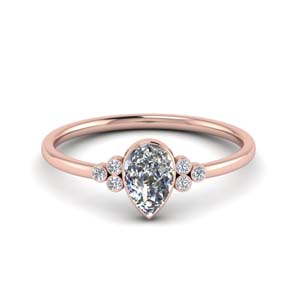 The pear petite diamond engagement rings are glamorized perfectly in a variety of designs including linked kite design, petal design, pattern and other charming patterns in numerous metals ranging from 14k white gold to 18k yellow gold.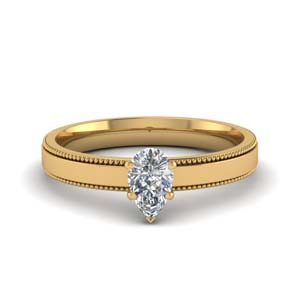 A curvy and distinctive style, the pear milgrain rings display brilliance through prime quality pear shaped diamonds and gemstones of your preference. The milgrain pear diamond rings are embellished in grid pattern, floral patterns, antique styles and other stunning designs with a range of 1 carat to 5 carat.
.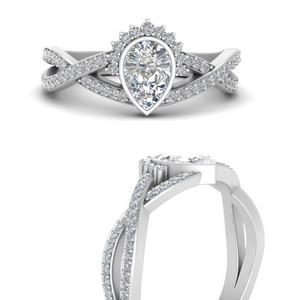 This bezel set pear split band crown diamond engagement ring is a diamond laden couture incorporating a sensational pear shaped diamond in bezel setting in the center. The curve of the pear is lined with tiny round diamonds in classic prongs. The infinity twisted, split shank is encrusted with tiny round diamonds in pave setting. The royal aesthetic of the sparkling ring is a vogue head turner.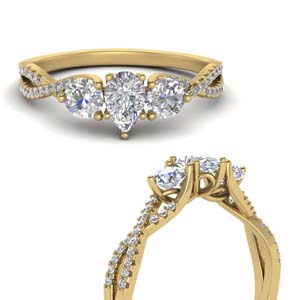 The Trellis Twisted 3 Stone Engagement Ring strikingly showcases a gorgeous diamond as per your preference accented at the hub of the ring flanked with a sparkling round cut diamond held at each side of the center stone. Further augmenting the ring is a fine series of small dazzling stones aligned in a classic U prong setting on the twisted style ring shank adding elegance and poise.
.
Fascinating patterns of filigree engagement rings are carved by our team of dedicated filigree artisans, to deliver the authentic delicate filigree rings. Crafted in superior silky metals, the fine work of antique filigree rings, filigree wedding rings, and other styles of gold filigree rings are truly extraordinary and bring about a glamorous touch.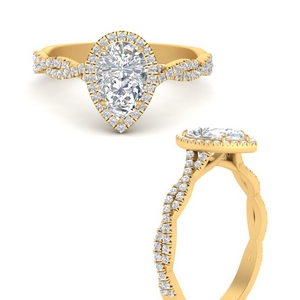 This Infinity Pear Halo Diamond Engagement Ring flaunts a splendid Pear shaped center stone cozied up with a set of shimmering diamonds forming a stunning halo. The entwined ring shank is dazzled up with petite round cut stones held in a pave setting defining you personality with grace and charm.
.
These teardrop rings are sure to win our heart just like they are predicted to win over the entire year ahead! Keep browsing and when you decide upon a ring, we will see you at checkout!
Also Look For