What Is A Solitaire Diamond Ring?
November 17, 2016, Alyssa Bruni
In today's modern age which girl wouldn't want to own a solitaire ring set with the eternal diamond? Making a bold, beautiful and brilliant statement, the solitaire diamond ring has been and still is an iconic symbol of love and a stunning souvenir of lifetime commitment.
What exactly is a sole diamond ring?
You wonder what is a solitaire diamond ring and what makes them so popular? Defining it in generic terms a diamond solitaire ring is so crafted to enhance and appreciate the beauty of a single diamond mounted beautifully on a glossy metal band, this stunner emphasizes the center brilliance in a sophisticated and surreal manner. And as for the exclusive reason as to why they are much loved is because the entire focus in a solitaire ring is on the diamond set in the middle or in a few words it makes the diamond the star and brings its beauty in spotlight that surpasses all.
Know what options does a solitaire diamond ring offer?
It is very important to strike the right balance between acquiring the right size and quality of diamond, one that sticks right with your budget and yet gives you all the brilliance and fire you were looking for.
Intrigued are we with the options that these beauties can offer, yes even with a single diamond ring one can acquire ample of choices. From opting for distinct diamond shapes to urbane design ring bands and from two tone metal band to subtle settings the much loved solitaire rings have gotten a crisp makeover one that matches every womens individual style. Solitaire diamond rings today are just not limited to the round or circular shapes anymore, instead the square brilliance and the fancy shaped diamonds give an equally graceful effect and elan than the traditional ones. We list for you some of the most inspiring options that guide you to pick a solitaire diamond ring that matches your persona.
Why are classic round solitaire diamond rings so popular?
Well the most popular and much loved diamond is the circular or round brilliance that by most is opted as the definitive and synonymous choice for a solitaire diamond ring. It is much loved more so for the reason that the circular shape of these diamonds gives off most light and fits into every setting seamlessly. From round to near globular like the oval diamond and the cushion diamond are also a great choice for crafting your sole stunner in.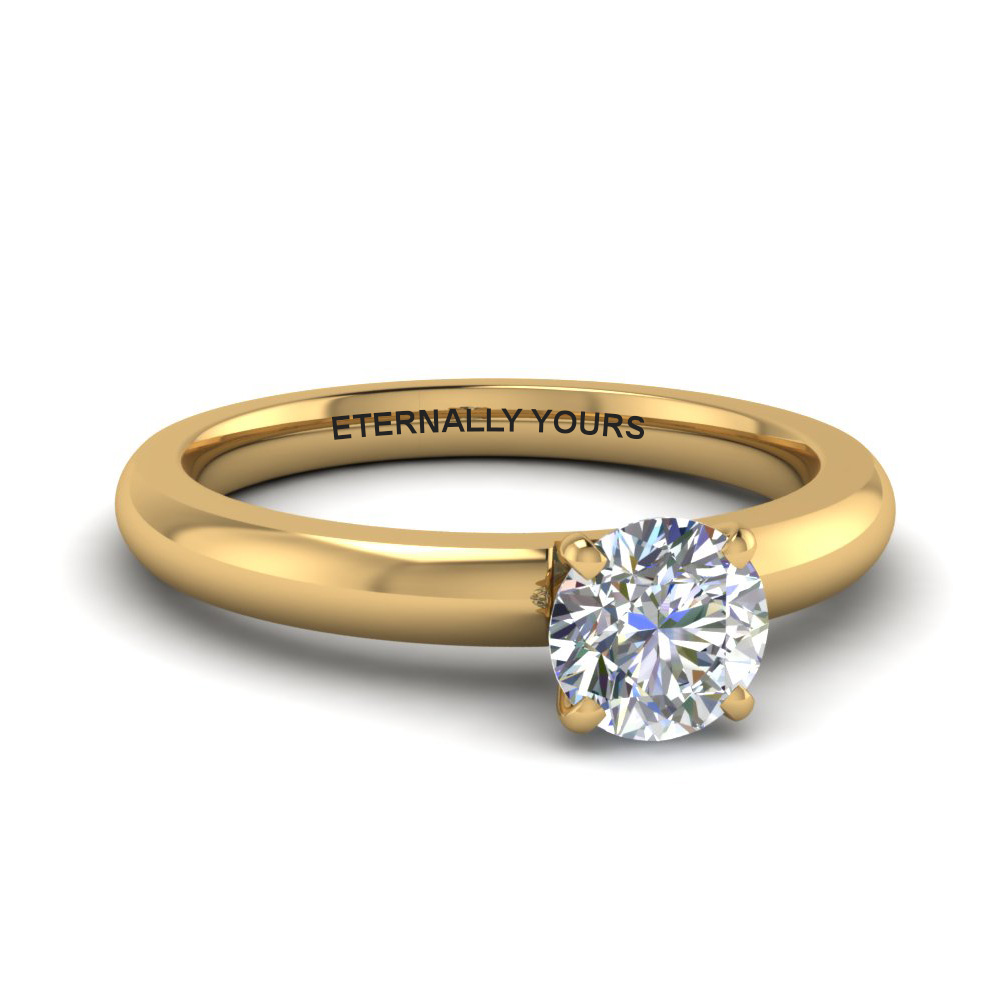 Traditional stunner the 18k yellow gold classic solitaire ring of 0.40 carat total weight is enhanced by a sparkling GIA certified round cut center diamond placed in an elongated prong setting held in the center of the glossy circular band that gives an elegant appeal. Strikingly crafted by Fascinating Diamonds this beauty is a forever favorite that has stood the test of time endlessly.
In love with square or rectangular cut diamond solitaire rings are you?
Most maidens who prefer more urbane and elegant styles are drawn by the charm of crisp square and rectangular shaped diamonds like the princess cut, emerald cut, radiant and asscher cut diamonds. Giving out a bigger and bolder appearance these clean square or step cut diamond rings are truly an exceptional choice.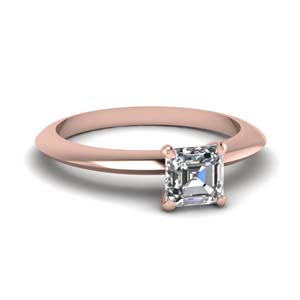 Classic beauty the 18k rose gold knife edged ring of 0.46 carat total weight showcases an elegant asscher cut GIA certified center diamond placed in a graceful basket prong setting which is enhanced by a glossy narrow knife edged ring band adding to the stylish look. A brilliant knockout styled by Fascinating Diamonds for those who enjoy the sophisticated elan of clean crisp stunners.
An unconventional lady who loves fancy diamond shape solitaire rings?
For those beauties who love glamour and drama the fancy shape solitaire diamond rings are a great option. Offering a unique twist the much love heart diamond, pear shaped or the marquise cut diamonds are the latest fad to fashion these solitaire rings.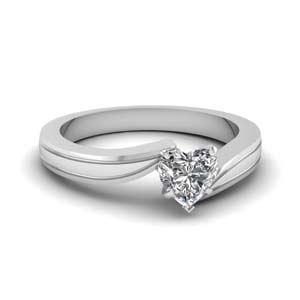 A modern brilliance the twirl ring of 0.30 carat total weight flaunts a four prong setting that gracefully holds a brilliant GIA certified heart diamond in the middle, accentuated by a swirl shaped 950 platinum ring band to give it a signature appeal further embossed by a fine outline on the glossy ring band. Contemporary solitaire ring designed by Fascinating Diamonds for the unconventional bold women.
How unique settings make the solitaire diamond ring exclusive?
The classic solitaire ring not just offers exclusivity to the diamond but also offers a wide array of choices when it comes to setting the brilliance. One can style these beauties in secure and unique bezel and half bezel setting to firm tension setting and in popular prongs. Each setting offers a distinct edge to the sole diamond and makes it appear much more grand.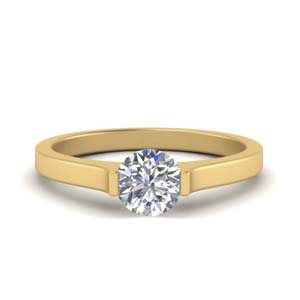 This Half Bezel Solitaire Engagement Ring beautifully flaunts a spectacular center diamond of your choicein the center in a marvelous half bezel setting on the thick and glossy shank of the ring offering you an aesthetic and graceful appeal.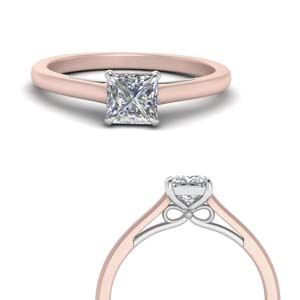 This 2 Tone Bow Solitaire Engagement Ring highlights a gorgeous diamond of your preferred choice studded in the center in a classic prong setting over a beautiful bow design crafted in a different metal featuring a stylish two tone pattern adding immense opulence and splendor to your look.
What unique designs can solitaire diamond rings be styled in?
One can also experiment with the novel designs that highlight the diamond solitaire ring band. For those who enjoy the single diamond ring with creative artistry the filigree bands, milgrain decorated bands, split bands, twisted rope style bands and eternal infinity style bands are popular choices. These beauties create a striking contrast between the eternal beauty of sole diamond and the visual prowess of uniquely styled gleaming metal band.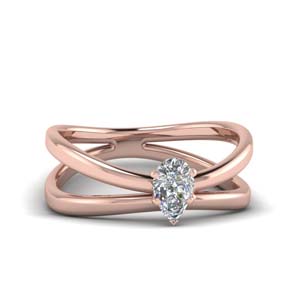 Fashionable sparkle the 14k rose gold split shank solitaire ring of 0.40 carat total weight is highlighted by a prong set pear shaped GIA certified center diamond which is beautifully placed on a uniquely designed butterfly shaped split band of the ring. This popular solitaire style ring crafted by Fascinating Diamonds is apt for those who enjoy their precious token with a classy twist.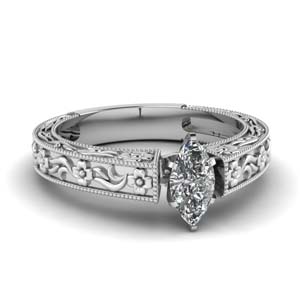 Scintillating ravisher the florid ring of 0.40 carat total weight creates a classy appeal by showcasing shimmering prong set GIA certified marquise cut center diamond, enhanced by a unique floral and milgrain design that highlights all three sides of the 950 platinum ring band. Majestic classic created by Fascinating Diamonds for those who love the shimmer of sole diamond and the inspiring beauty of nature.
With such brilliant options crafted out of a solitaire diamond ring one can never go wrong. So what style solitaire diamond ring inspired you? Well whichever form it may be in they never stop to impress one and all. Glazed in the shine of rich traditional history and the everlasting charm of a single diamond shining bright these rings are the purest and most appropriate representations or might we say symbols of everlasting love, commitment and loyalty.
Recommendations For You
Stunning range of wedding ring sets whose beauty reveals an everlasting charm.
Match up his and her wedding bands to possess a remarkable style of beauty.
Make your occasion of marriage memorable with trio wedding ring sets that are carved to last forever.