Check The Latest Diamond Ring Designs With Baguettes Accents!
December 9, 2016, Alyssa Bruni
Ever imagined a bride without bridesmaid? No right, just is the case with the ultimate accent rock the baguette diamonds. For they never take the center stage in a diamond ring but rather extend their loyalty by adding much grace, support and grandeur to the center diamond. Offering a dash of elegance and making the ring look complete such is the visual aspect of these sparkling step cut stones.
Popularly fashioned in two distinct shape either the straight baguettes that resembles an emerald cut diamond only disparity is that these baguettes are more leaner. And the other counterpart being the tapered baguette, which is square shaped at one end and tapered on the other. Well with such scintillating beauty baguette diamonds make for some of the most awe-inspiring and breathtaking ring designs. We give you an elaborate de-tour on some of the most glorious diamond rings with baguette designs, piece that inspire to create magic.
The Trio Floral Accenting Look:
Attractively lending their influence to the center rock one of the most subtle and crisp designs is the three stone ring that is graced with the beauty of the baguette diamond.
Graceful stunner the 18k rose gold milgrain carved ring of 0.66 carat total weight holds a shimmering GIA certified 0.4 carat emerald cut diamond in the center placed in prong basket setting spotlighted by two prong set straight baguettes of 0.26 carats on either side. Further augmenting the antique appeal of the ring band is an intricate floral pattern carved beautifully and bordered by a milgrain design on all three sides to give an intense effect. Created gorgeously by Fascinating Diamonds, this piece is sure to match every girls glamorous style.
Combination Of Diamond And Baguette Shape:
An enthralling amalgamation of diamonds to give a heady mix of sparkle can be achieved by infusing varied diamond shapes in one ring. The beauty of baguette diamonds is such that they blend brilliantly with other diamond cuts.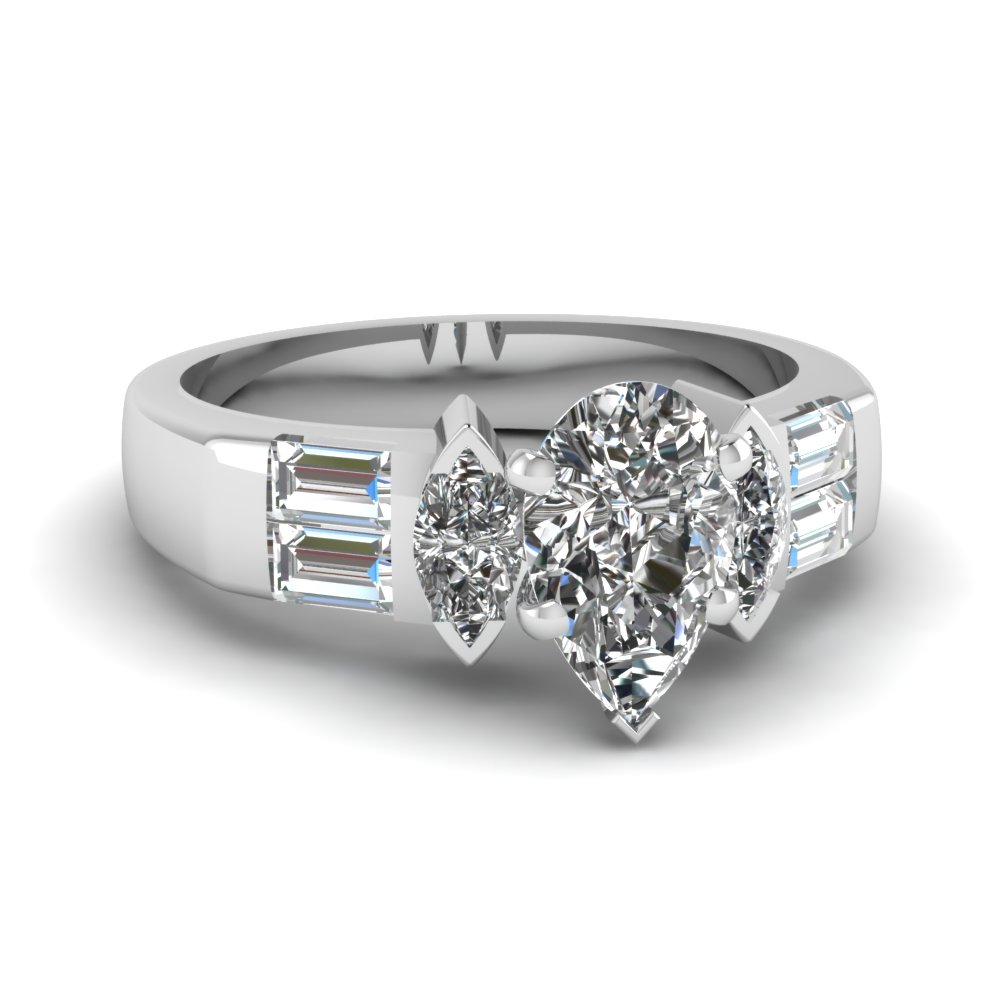 Fall in love with the 1.80 total carat weight twin marcasite ring that brilliantly present a superior prong set GIA certified pear shaped diamond of 0.9 carat in the middle flanked on either side by two marquise shaped diamonds of 0.9 carat in a V prong setting. Further augmenting the look are four bar set straight baguette, two on either side set inline on the thick glossy 950 platinum ring band. Noticeable beauty styled by Fascinating Diamonds for the classy women who enjoys to flaunt her sparkling brilliance.
Blending Different Baguettes
Get a dramatic look with the classy merger of both baguettes shapes, the starlight and the tapered cut. It indeed gives a contrasting yet complimenting appeal to the overall look.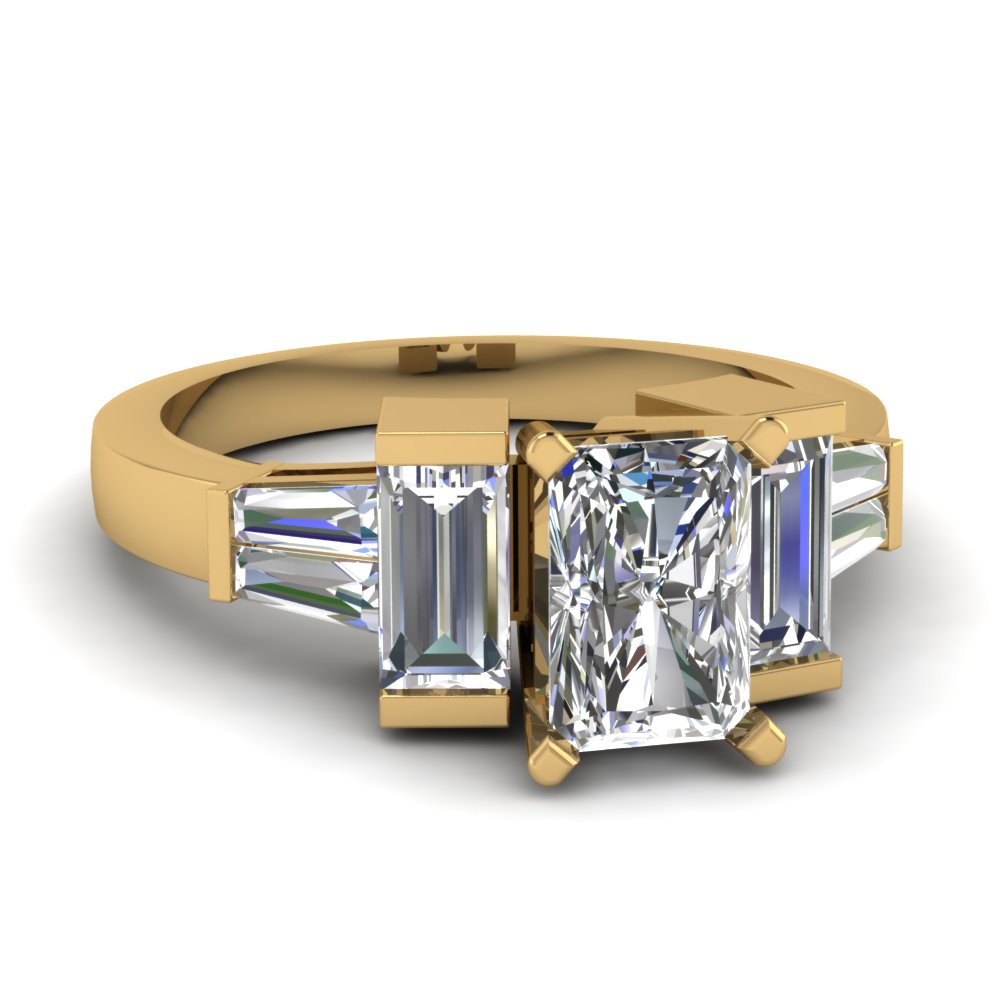 Basking glory the bliss baguette ring of 1.82 carat total weight takes your breath away with its immensity as it features a GIA certified prong set radiant cut diamond of 0.9 carat in the center, flanked by two bar set straight baguettes of 0.92 carats on both side Adding to the 14k yellow gold ring bands splendor more are two bar set tapered baguettes placed horizontally on either ends adding to its unique appeal. Styled attractively by Fascinating Diamonds this beauty charms instantly.
Baguette Series
What more scintillating then a row of baguettes shining in all its glory and adding a starry appeal. A fine sequence of baguettes not only offers graceful flair to the center stone but adds much shimmer to the ring.
Glistening ravisher the 14k rose gold baguette bliss ring of 0.74 carat total weight flaunts a stunning prong set GIA certified oval shaped center diamond of 0.32 carat enhanced by a series of subtle series of straight baguettes of 0.42 carats set inline in channel setting on either sides of the ring band adding to its unique look. A novel treasure crafted by Fascinating Diamonds for the lady who appreciates elegance.
Baguette Halo
One of the most wonderful mix is to match the oh so popular halo design with the baguette diamond. It adds a garnishing touch to the ring and a delightful picture when crafted together.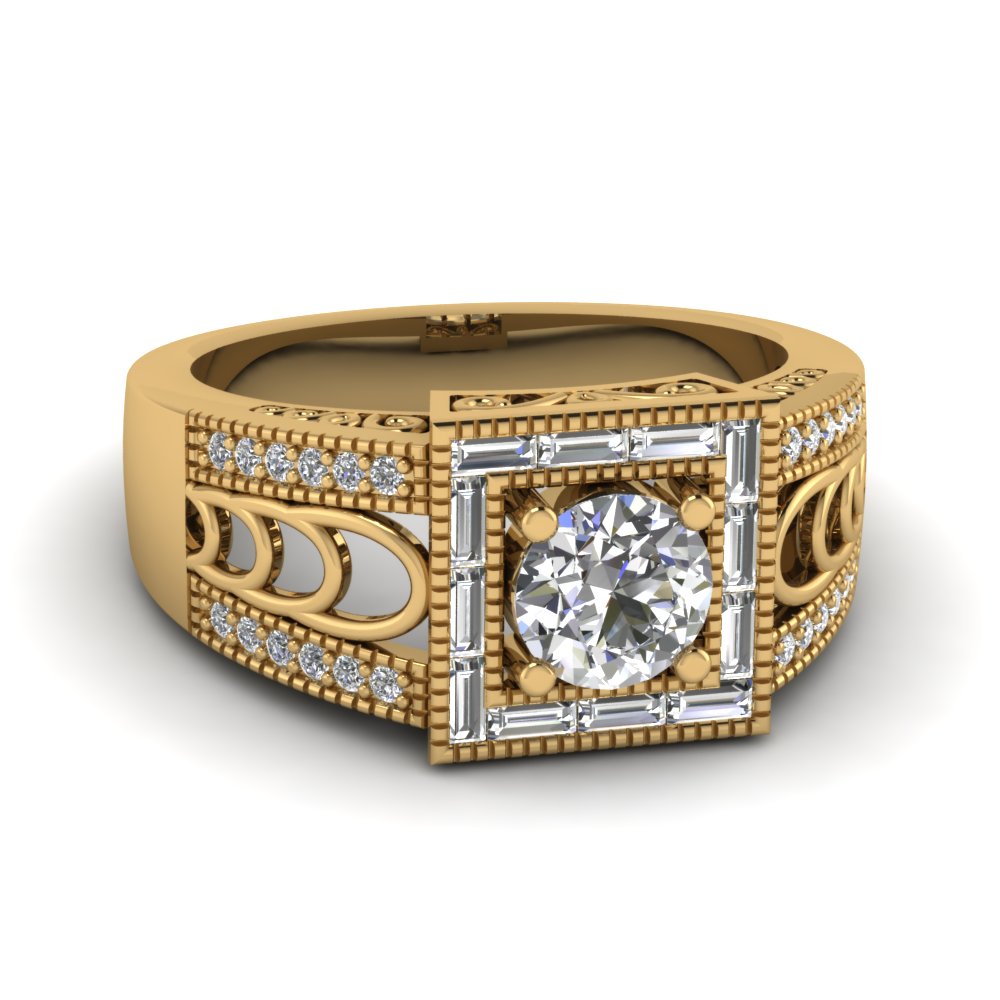 Contemporary knockout the 1.02 carat total weight regal halo ring makes a fine fashion statement by featuring an alluring prong set GIA certified 0.5 carat round cut diamond in the center enhanced by a series of channel set straight baguettes of 0.52 carat in a square shaped halo graced with a flywheel border. Adding charm to the artistic look of the 18k yellow gold ring is an intricate horizontal adjoined U design carved in the middle and accentuated by pave set round cut diamonds on both sides. Enhancing it even more is a symphony detailing on the inner rims of the thick ring band which is bordered all over by a flywheel design. Refined elegance fashioned by Fascinating Diamonds that adds classy touch to your aura.
Colored Baguettes
Adding a burst of vivaciousness the colored baguettes give a complimenting hue that engages in one go. For the eternal beauty of diamonds and multihued fire of colored gemstone bestow a perfect harmony to the ring.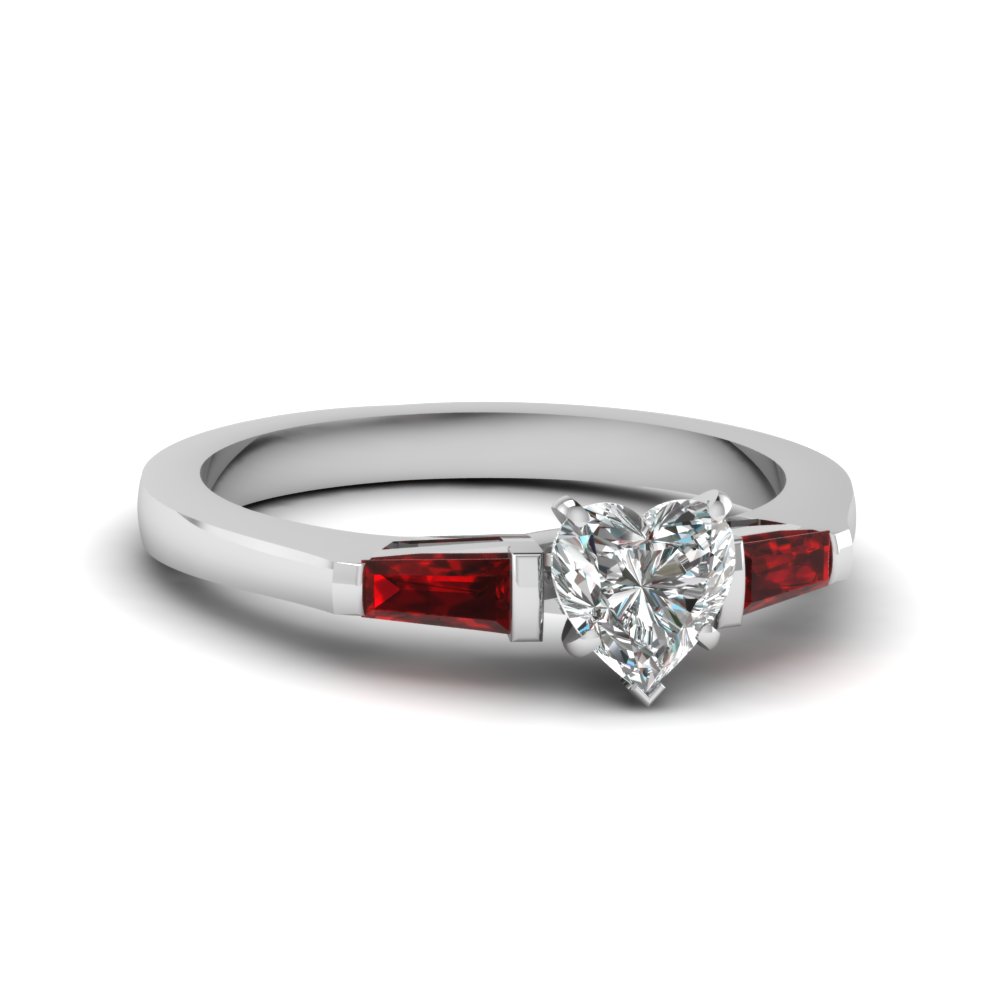 Blushing brilliance the 14k white gold baguette diamond ring of 0.56 carat total weight encases a sparkling GIA certified heart shaped center diamond of 0.4 carat held in prong setting. Further augmenting the graceful appeal of the ring band are two bar set red ruby gemstone tapered baguettes gracing either side excellently. A ravishing sensation fashioned by Fascinating Diamonds for a beauty who enjoys vibrancy of colorful gems.
Engaged are you? With some of the most effervescent choices it is hard not to get hooked. As though not a center rock yet an impactful stunner the baguette design diamond rings are certainly a big style statement pieces. For these suave sparkles add all the sophistication and grandeur to your diamond ring with their beauty and sharp crisp cut and proffer you a beauty that you would cherish forever.
Recommendations For You
Stunning range of wedding ring sets whose beauty reveals an everlasting charm.
Match up his and her wedding bands to possess a remarkable style of beauty.
Make your occasion of marriage memorable with trio wedding ring sets that are carved to last forever.