Milgrain That Makes Your Engagement Ring Precious And Antique!!
September 9, 2016, Alyssa Bruni
You wonder what it is about engagement rings that makes it so precious for a bride? Fact that this token of love will be adorned for a lifetime is a reference enough to makes it special enough for every girl. And what is the fuss about owing a unique engagement ring you ask? Well, If your relationship is so exclusive shouldn't the souvenir binding you as one be as exceptional. It is that very concept which makes the unusually enticing milgrain design a hit in the jewelry circuit.
The simple reality that its adds a antique vibe to your diamond jewelry and lends in a timeless appeal is the reason why most brides prefer these ring in one go. Literal translation for the French word milgrain is a thousand grains or a decoration with a string of tiny beads coined right at the edges of a jewel to make it one of a kind. Let us inspire you with some of the most tantalizing and heirloom worthy milgrain beauties and offer you with the answer to your quest as to how does milgrain bestows exclusivity to your ring?
Adds More Zing To Your Regular Sparkle:
Which bride would want a stunner that would make her go weak in her knees? Well that is the magic created by the extraordinary milgrain design, as it adds finesse and detailing to your just so regular sparkle and offers you a much enhanced one-of-a-kind beautiful engagement ring.
Milgrain Ring Style: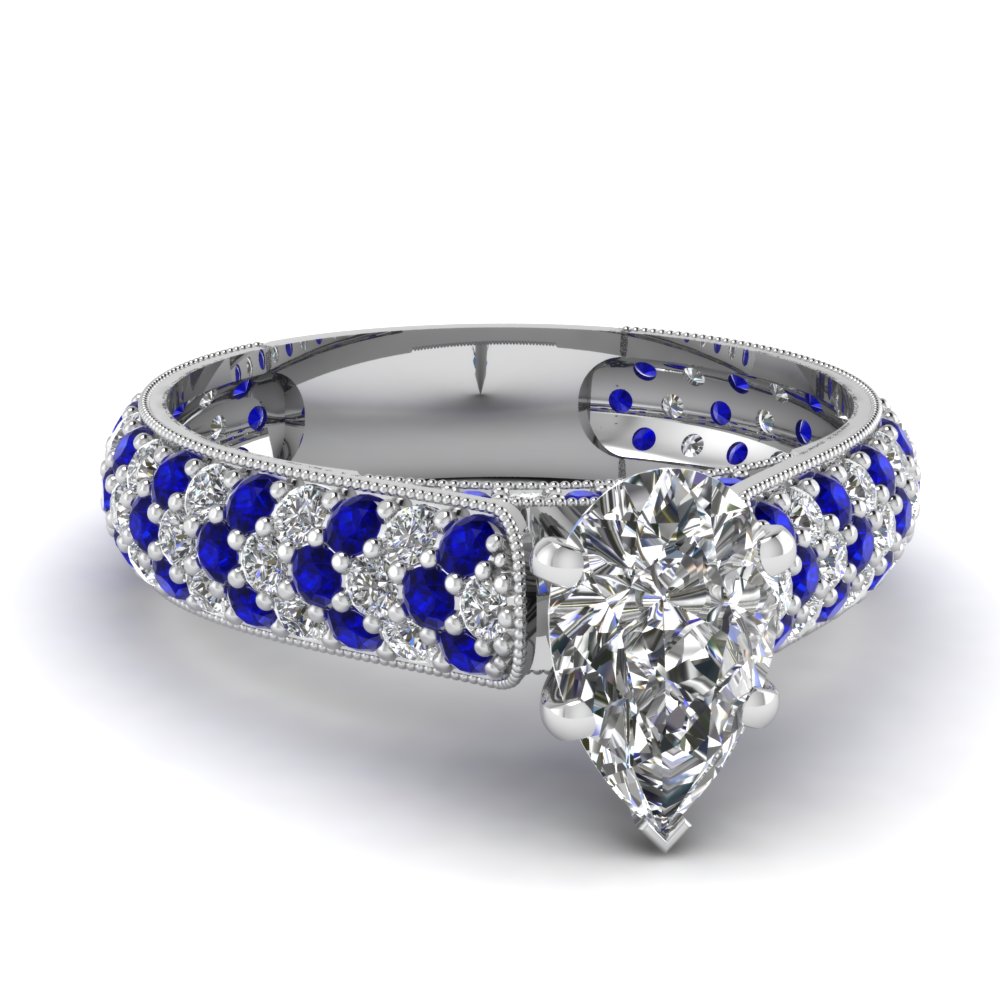 Pristine classic the 1.68 carat total weight milgrain cluster ring makes your union even more special by featuring an elongated prong set GIA certified pear shaped center diamond of 0.7 carat, further augmented by pave set round diamonds of 0.45 carats blended with blue sapphire gemstones of 0.53 carats artistically placed in a cluster of three lines to cover the entire facade of the 14k white gold ring band that is bordered with delicate milgrain outline. A romantic sparkler created by Fascinating Diamonds, an answer to your brides desire of swoon worthy treasure.
Filigree Design Ring:
Statement stunner the 18k yellow gold filigree engagement ring of 0.44 carat total weight adds an exceptional appeal by featuring a prong set GIA certified oval shaped center diamond of 0.4 carat accentuated with pave set round diamonds of 0.04 carats in between the intricate milgrain encased filigree design that covers the entire facade of the ring band. A classy beauty styled by Fascinating Diamonds perfectly compliments your girls raging beauty.
Blends In a Creativity And Glamour:
This classy milgrain technique not only infuses the creative facet of your bling but pumps up the glam quotient too by its elaborate design that works its magic on your oh so expensive engagement ring and proffers you the quintessence you were craving for.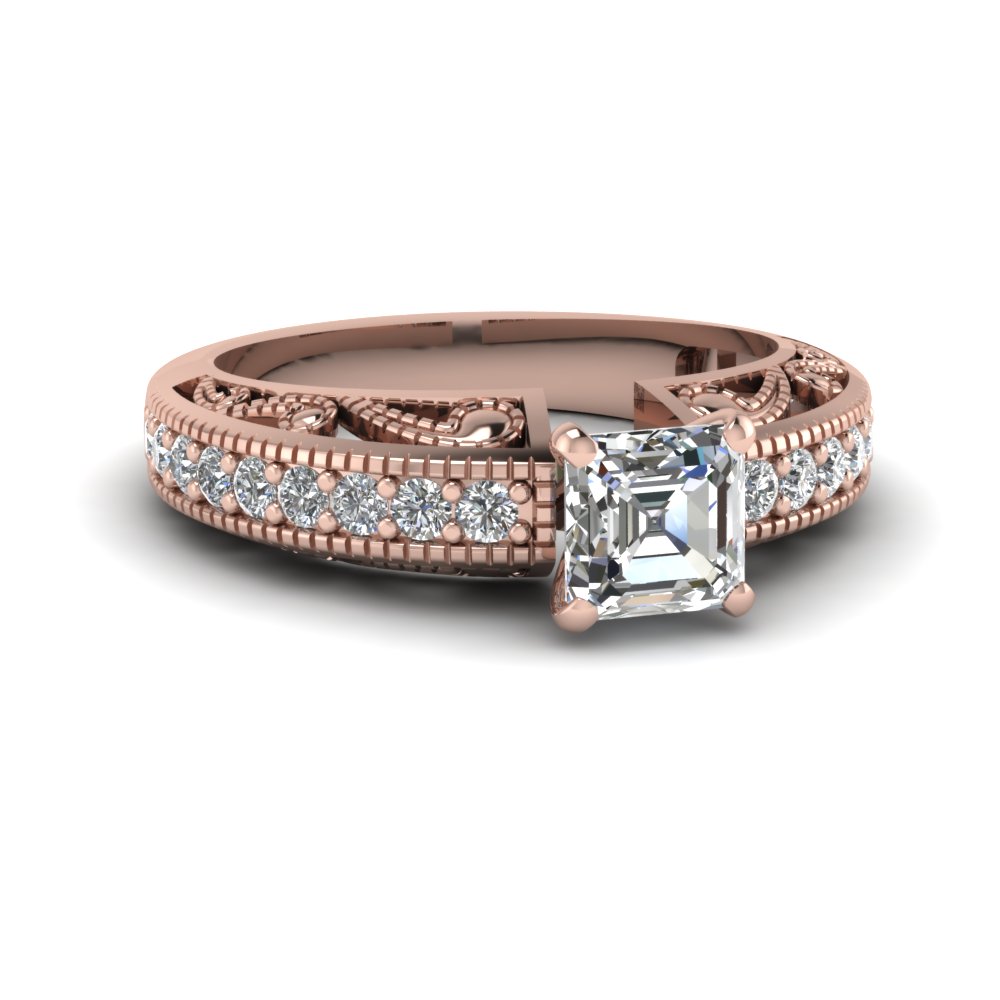 Set your sight on the stunning 14k rose gold milgrain paisley ring of 0.72 carat total weight that studs you with its fresh approach and flaunts a prong held GIA certified asscher cut center diamond of 0.4 carat highlighted by pave set round cut diamonds of 0.32 carat set in a sequence with a milgrain outline on either sides of the ring band. Adding more grace to the artistic look of the ring is an intricate milgrain carved paisley design accentuating the inner rims of the ring band. A major trend setter this beauty by Fascinating Diamonds is sure to add a sparkling radiance to your girls life.
Vintage Looking Ring:
Intensely creative the milgrain refulgent ring of 0.66 carat total weight is a novel creation that spectacularly showcases a prong set GIA certified round cut diamond of 0.4 carat in the center stone encircled by a series of pave set round red ruby gemstones of 0.18 carats laced with a crisp milgrain outline. Further augmenting the artistic look of the 14k white gold ring band are pave set round cut diamonds of 0.08 carat placed in a series and enhanced by a fine line of milgrain covering the edges on either sides of the ring band and an elaborate and intricate milgrain detailing on the inner rims adding to its innovative look. A sweet sentiment of loved crafted by Fascinating Diamonds that makes you stand out of the crowd instantly.
Lends In An Antique Vibe:
Famed for usher in an age inspired vibe to your rings the milgrain design adds romantic vintage style to your sparkler. The antiquity that the milgrain engagement rings showcase is nonparallel for they provide you the best of both worlds, meaning an a splash of antique look to your modern ring.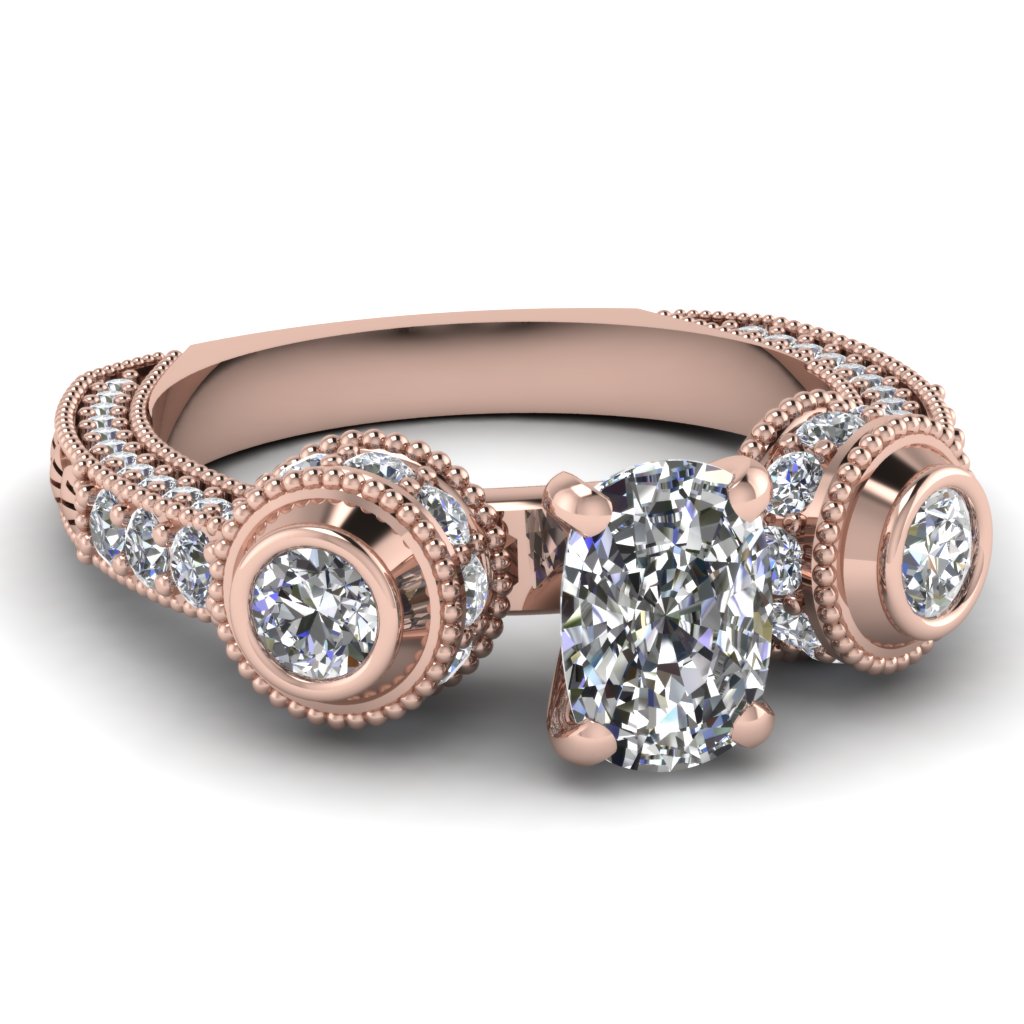 Swoop her of her feet with the 1.6 carat total weight traditional charm ring that brings forth an ethnic appeal with it artistic design that highlights a GIA certified cushion cut center diamond of 0.7 carat, flanked on either side by bezel set round diamonds of 0.9 carats placed on an elevated design which is further draped with series of pave set round diamonds underneath this bezel set diamond. Augmenting the look of the 18k rose gold ring further is series of paves set round diamonds on the length and sides of the ring shank and detailed milgrain carving all along the ring. Styled brilliantly by Fascinating Diamonds is a exemplar of sheer divine classic.
Floral Fusion Ring Style:
A modern mix of artistry the milgrain florid ring of 0.79 carat total weight is an exquisite beauty that features half bezel set round cut GIA certified diamond of 0.4 carat in the center beautifully highlighted by pave set and bezel set round diamonds of 0.23 carats that forms the inner petals of the flower and the outer petal is decorated with a fusion of round diamonds and violac topaz gemstones of 0.16 carats forming a beautiful florid shape edged with a milgrain border. Enhancing the artistic beauty of the split 950 platinum ring band more are descending bezel set round cut diamonds and violac topaz gemstones in the center amplified by a series pave set round diamonds and violac topaz gemstones beautifully accentuated by a fine milgrain pattern on parallel ends. True charmer styled by Fascinating Diamonds that adds a millennial touch to your classic.
Brands Your Ring As a Precious Treasure:
Adorned for a decade or more and still cant get enough of your sparkle? Well that is the magic of artistic milgrain design, for when each time you take a glance at your finger you get a blissful smile looking at that dazzler, the fantastic craftsmanship and artistry of the mesmerizing milgrain is the trick that makes your ring as precious and special as your relationship.
Nature Inspired Rings: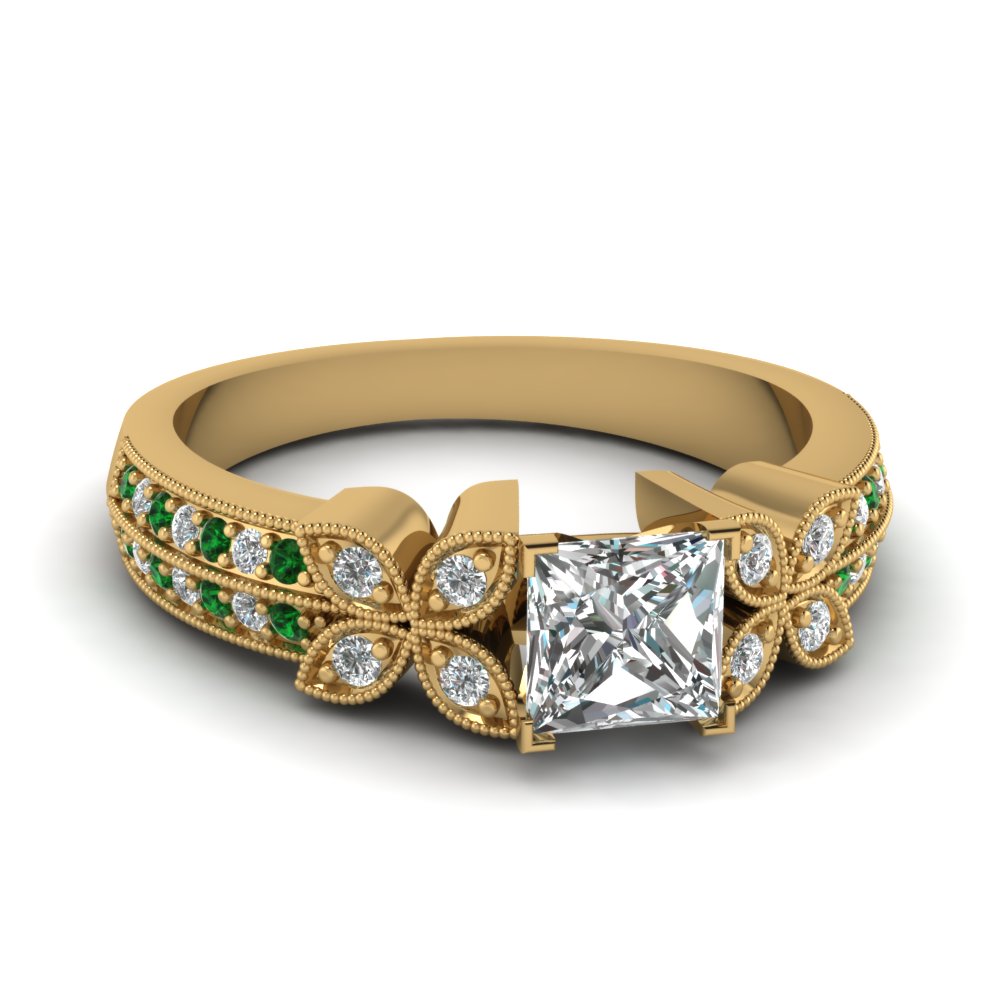 Picture perfect the 14k yellow gold milgrain petal ring of 0.52 carat total weight adds brilliance by showcasing an aesthetic design flaunting a stunning GIA certified princess cut center diamond of 0.32 carat accented on a V prong setting flanked on either side with an artistically crafted four petal flower which is studded with pave set round diamonds of 0.12 carats. Further augmenting the look are two parallel rows of pave set round diamonds and green emerald gemstones of 0.08 carat forming the thick ring band. Adding to its grace is a milgrain outline bordering the entire ring. Super feminine creation by Fascinating Diamonds for the girl who is enchanted by charms of nature.
Keeping the charm of the effervescent previous era alive these milgrain rings make you lust for your stunner once adorned. We hope you have zeroed down on the above listed beauties and are on the go to get yourself a brilliance that you are obssed about for the rest of your life.
Recommendations For You
Stunning range of wedding ring sets whose beauty reveals an everlasting charm.
Match up his and her wedding bands to possess a remarkable style of beauty.
Make your occasion of marriage memorable with trio wedding ring sets that are carved to last forever.