Top 10 Holiday Gifts Under $1000
November 21, 2018, Alyssa Bruni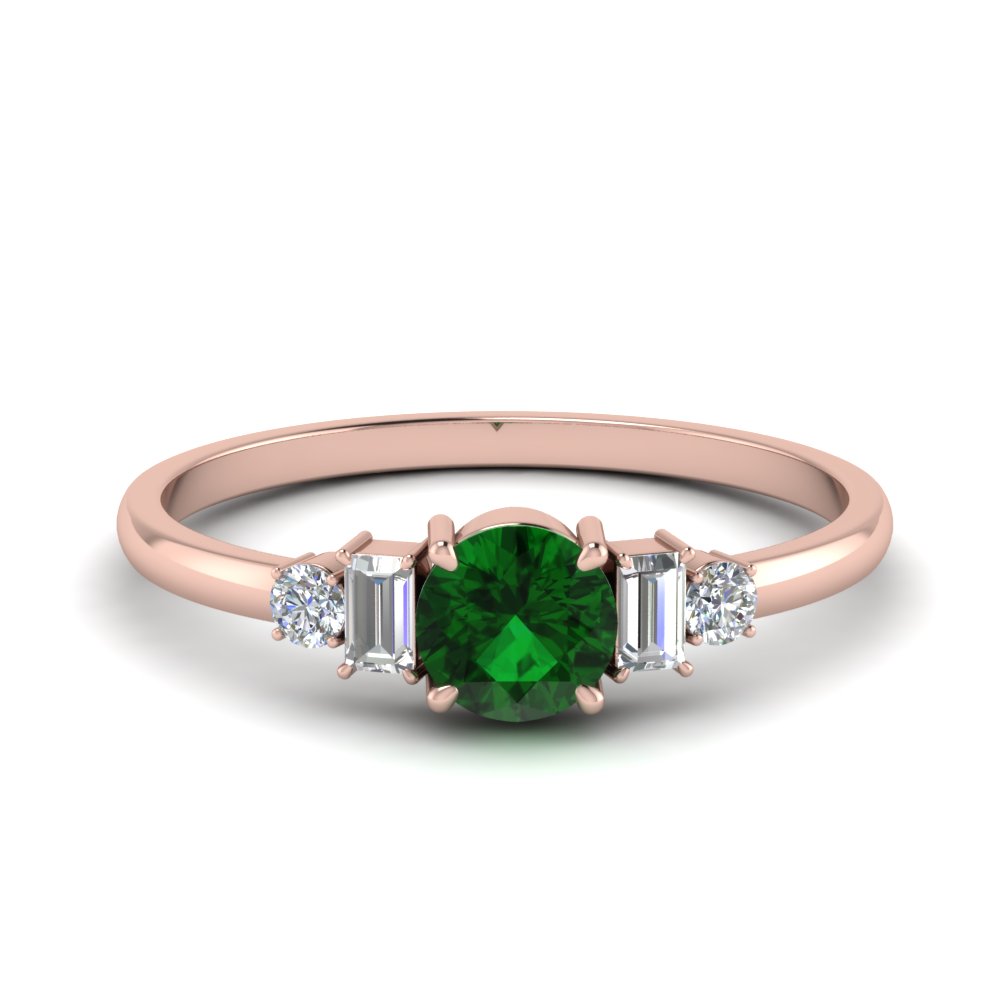 The delicate diamond baguette ring is a stunning gemstone cut, you can customize this ring according to your zodiac gemstone- with a straight baguette and a round shaped diamond held in a prong setting on each side of the ring, this brilliant ring is subtle yet very stylish.
loading…
FOR THE NATURE LOVER
The ideal sentimental piece of jewelry for a person who loves nature is our wonderful set earrings which radiate style and glamour both at once. These little darlings are some of the most prized purchases online at Fascinating diamonds because of the uniqueness and interesting design. These stud bird drop earrings are some of the most coolest earrings you will ever see, ideal for the girl who loves being in nature.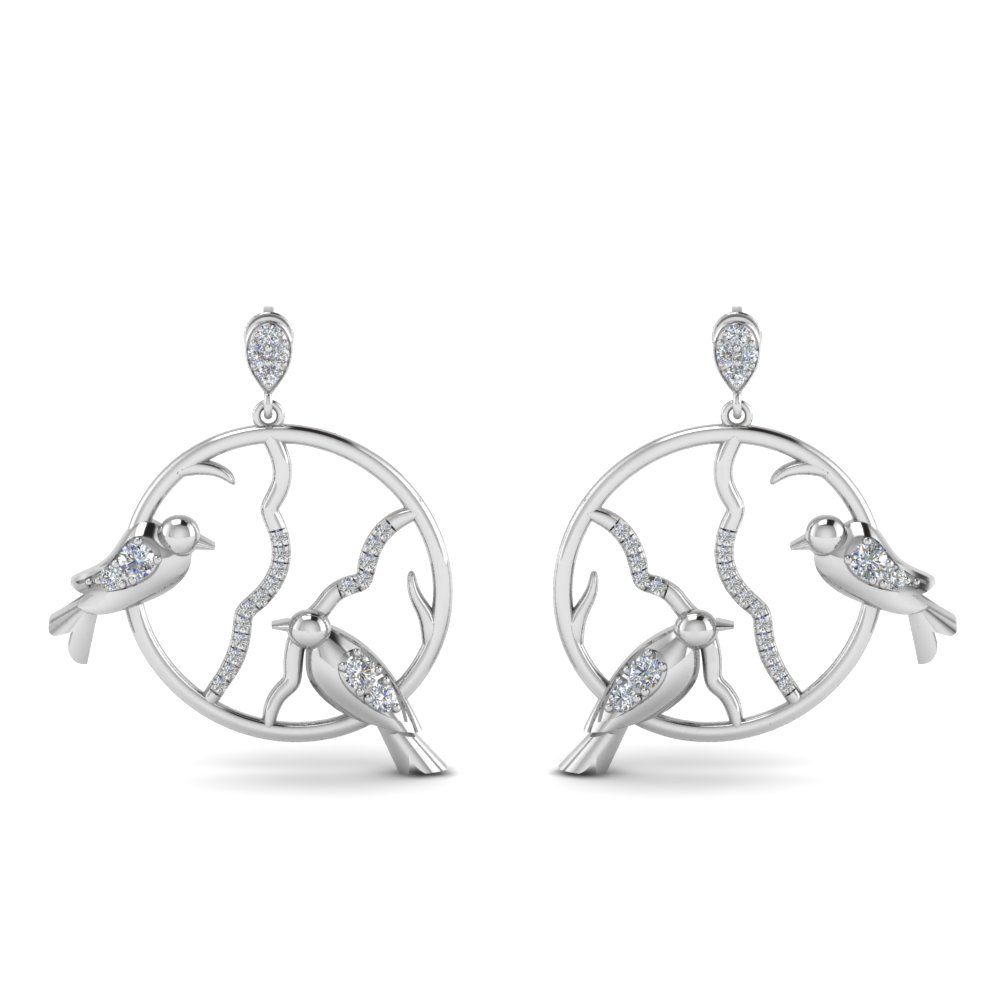 This Stud Bird Drop Earring unveils a fine sequence of small shimmering round shaped stones studded in a classic prong setting on the beautiful and glossy circular pattern enhanced with the enthralling bird designs offering you flawless elegance and look.
loading…
FOR THE ART CONNOISSEUR
If your lady loves going to art galleries or the museum, then artistic and out of the box as well as highly fashionable jewelry is the best option. The art connoisseur kind of woman is the woman who likes precision and detailing as well as something that stands out and has a meaning behind it. This open leaf ring is stunning because it fits around your finger with a wonderful glimmer; the ideal ring would be choosing this stone in blue topaz if the lady you are buying for is born in December. The perfect ring for the girl celebrating her birthday in December. This open leaf ring draws attention to the fine sequence of the small round shaped stones, all placed into a pave setting. The blue topaz was named after 'Topazius, what the ancient Greeks called the island of Zebirget in the Red Sea. Blue Topaz is one of the most historically awesome gemstones ever!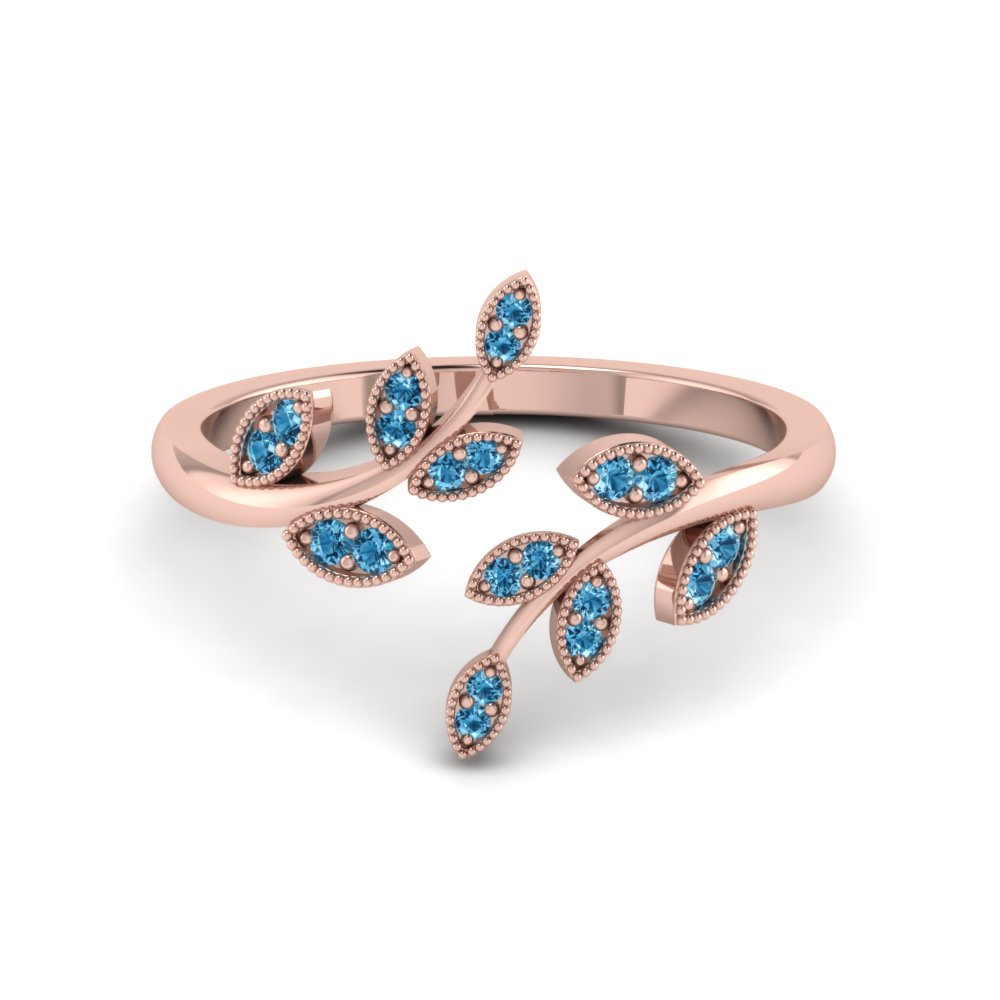 This Open Leaf Wedding Ring draws attention with the fine sequence of small scintillating round shaped stones encrusted in a classic pave setting on the beautiful leaf designs framed with the stunning milgrain border and arranged marvelously in a spectacular open pattern for a verve of flair and grandeur.
loading…
FOR THE MINIMALIST
For the girl who cherishes minimalism and who likes delicate jewelry because she likes to wear classier and subtle pieces then ideal gift for her would be a gentle Italian bar set diamond bangle. This little beauty is evocative because she will feel like a women in this bangle, drawing attention to her wrist bone, we don't think one can get daintier than this.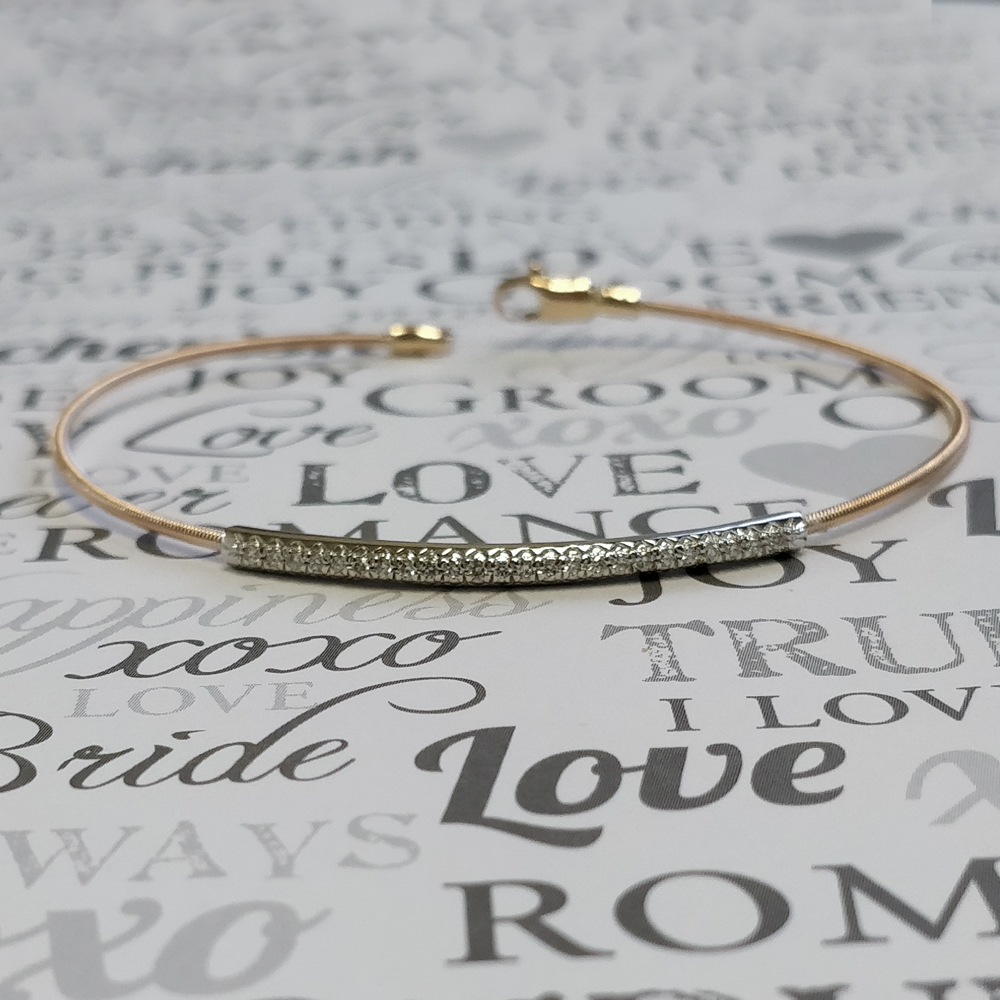 The bar design Italian bracelet is a metallic slab which is decorated with a line of round cut diamond embedded very nicely in a prong setting. This bracelet is perfect for the girl or woman who loves minimalism at its core.
loading…
FOR THE VINTAGE ENTHUSIAST
If your lady loves vintage clothes, vintage cinema, vintage shoes and vintage bags then she is bound to love vintage jewelry. Those women who spend their weekends at thrift stores or vintage bazaars know exactly how difficult it is to find the right thing that is an imagery of what you have inside of your mind. Everybody knows that collectable things can never go out of style and we totally agree with this statement too. This is why we recommend a brilliant vintage baguette sunrays design ring. This ring is the most vintage you can get, the style is stunning and wearing this for sure will grab attention from those people who value unique and vintage design.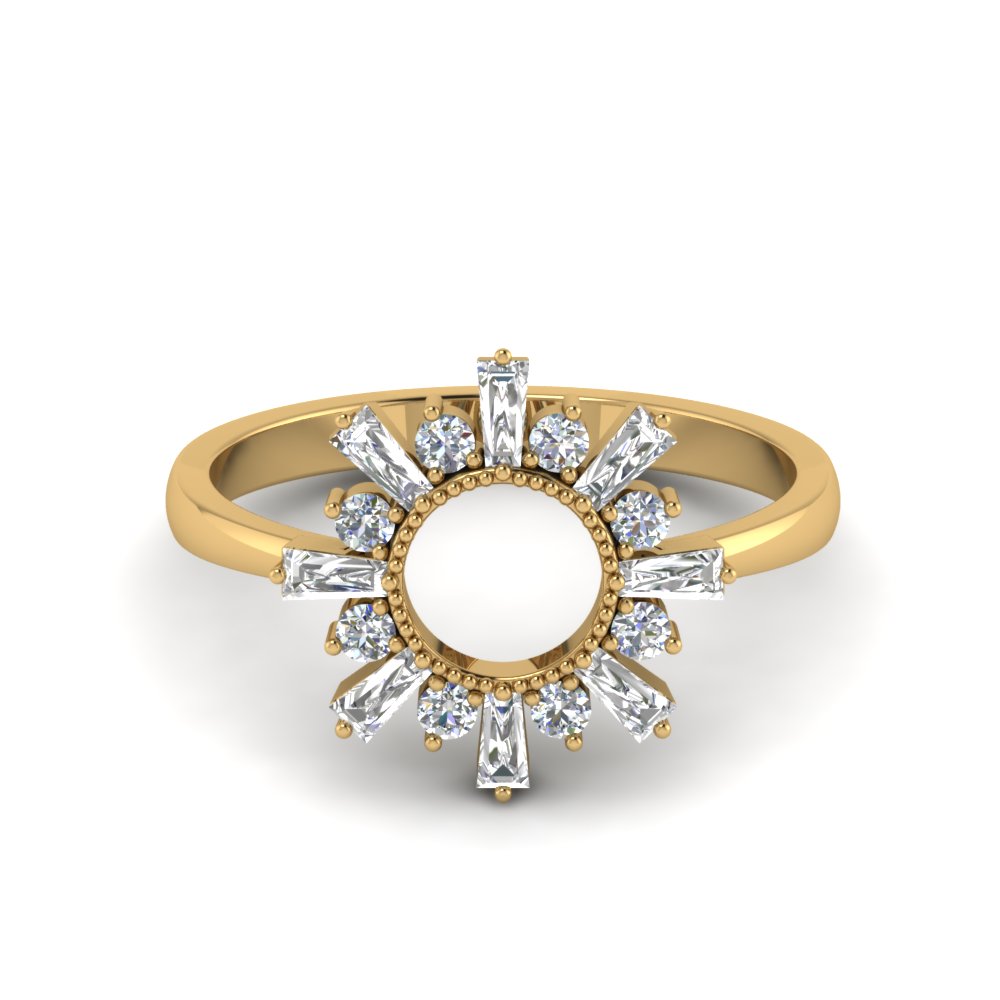 This Diamond Sunrays Design Engagement Ring features a charming sun pattern whose rays are created with the help of stunning tapered baguette and round cut stones arranged beautifully in an alternate sequence in a classic prong setting.
loading…
THE MODERNIST
The modern woman likes style that is evergreen with a strict rule on following and simply favoring ways that are modern and someone who prefers modern over ancient or antique. This type of woman enjoys wearing style that is in trend and both charming as well as aesthetically beautiful. The extraordinary Hamsa bracelet, traditionally worn by people in the Middle East and North Africa, depicts the open right hand, an imaged used as a protection in many times throughout history by the Muslims, Jews and Catholics to provide defense against the evil eye. It has been theorized that its origins are from Ancient Egypt and Tunisia and have been associated with the Goddess Tanit.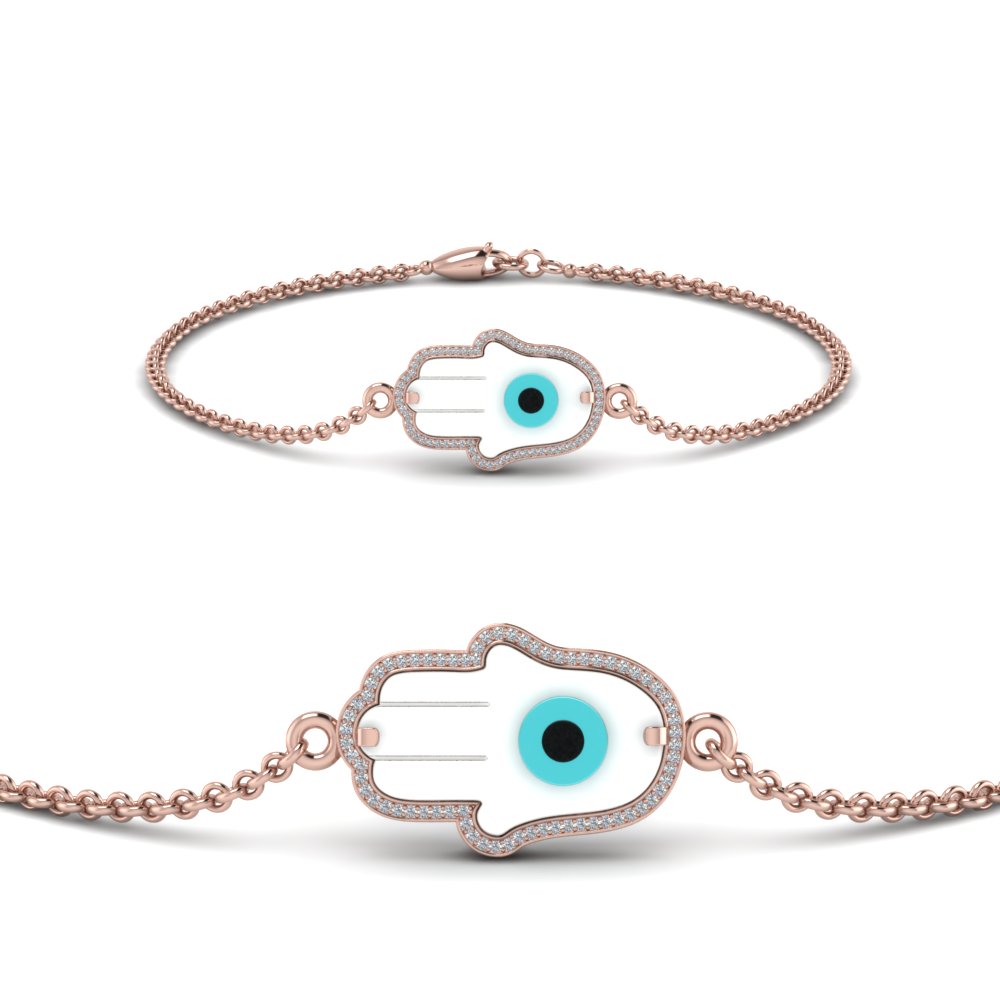 Buy your lady love an evil eye Hamsa bracelet to protect her against the unwanted eye, this will protect her and keep her safe. She will also love it because of its dainty modernistic appearance.
loading…
FOR THE PARTY HOSTESS
In the midst of all the parties and shenanigans, the holiday get together and cocktail do's, if the woman you love is a party lover and enjoys being the centre of attention hosting and toasting, then these wonderful cluster diamond earrings are perfect for her. These earrings have a flamboyance about them that is second to none with a witty charm she will take centre stage even without trying to.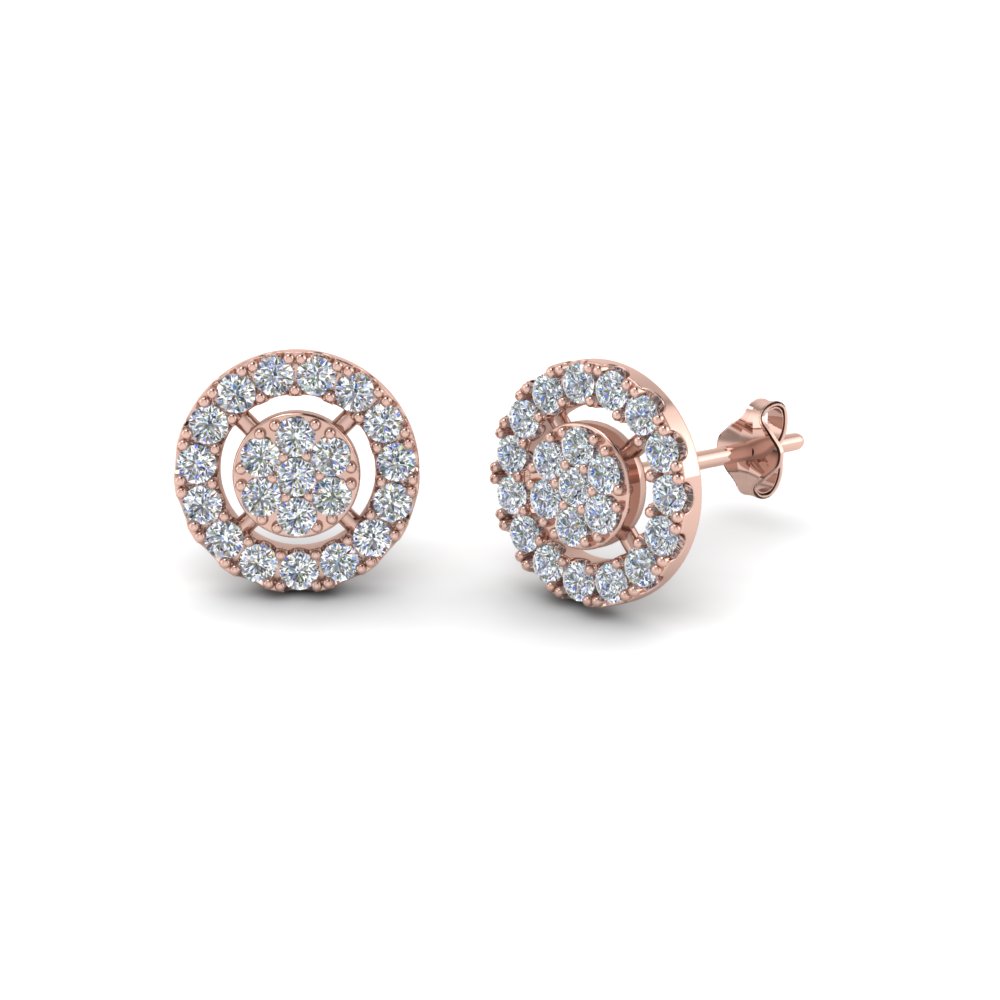 This Halo Diamond Cluster Earring features small dazzling round cut stones studded on a shiny metal band arranged magnificently in a classic prong setting. It depicted a stunning halo pattern excellently to add an edge to your style and beauty.
loading…
FOR THE HIPSTER
If your lady is into art deco or simply loves fashion and is very with it, then the ideal necklace for her would be the art deco graduated diamond necklace. This looks very punk rock as well as chic and hipster. The best for the girl who is very unpredictable and keeps you on your toes, customize this with her zodiac stone and do the most special thing for her ever. This little darling has round cut diamond which are pointed triangles in a row. It is heaven as long as it is worn with something super chic too.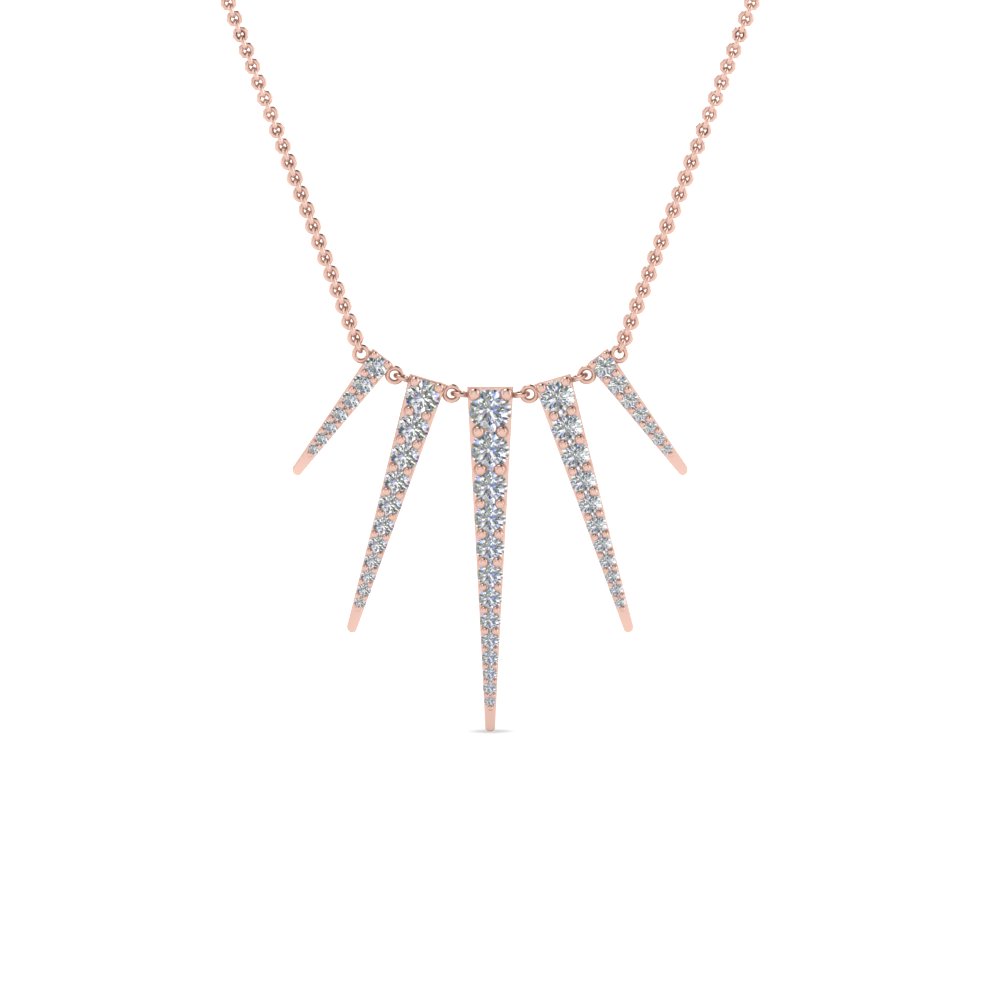 The Art Deco Graduated Diamond Necklace features round cut diamonds with pointed traingles design side by side eachother to make this diamond necklace look more attractive in every possible terms.
loading…
IF SHE IS YOUR SISTER
If you are buying something lovely for your sister this holiday season then don't look anywhere else but here. We have the most special heart shape diamond charm bracelet that is ideal for your sister. She will love it because of how gentle and feminine it is as well as youthful and trendy. No matter how old your sister is, buy her this stunning charm bracelet and make her happy this holiday!.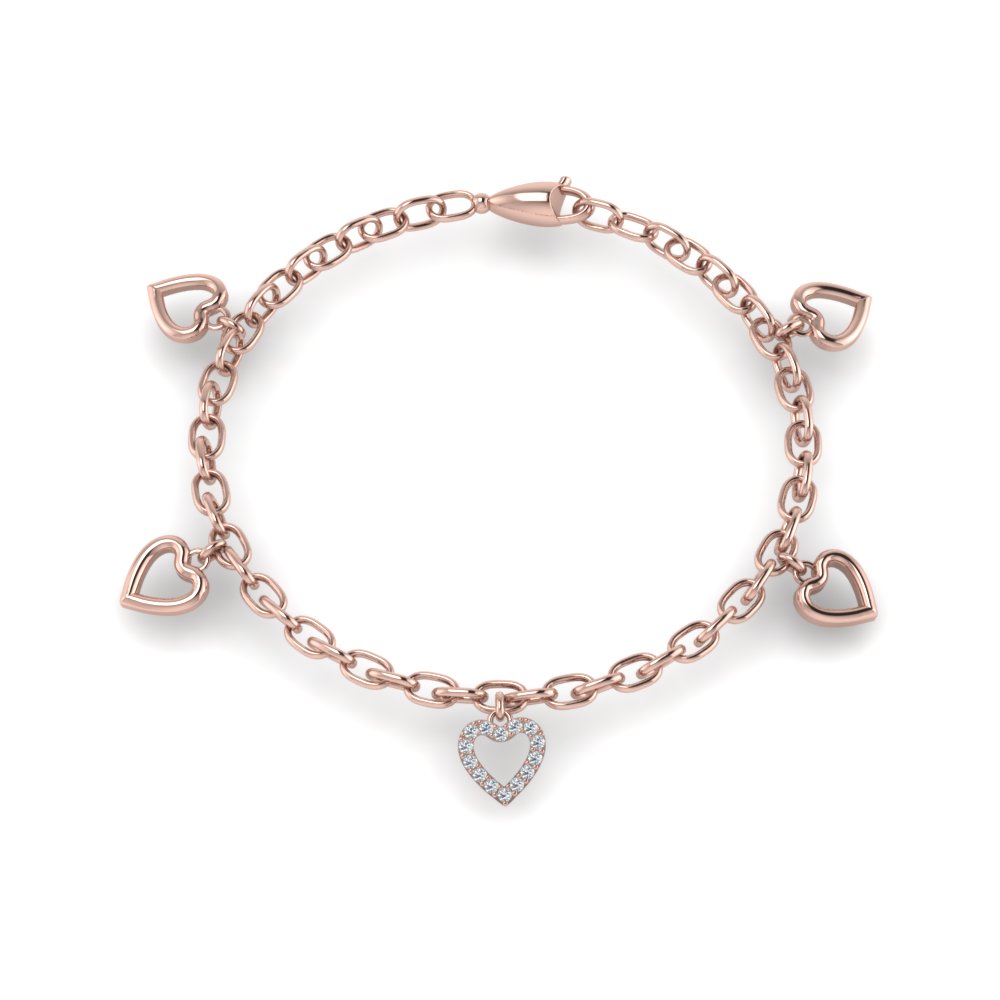 This Heart Diamond Charm Bracelet flourishes a fine series of tiny glistening round cut diamonds aligned in a classic prong setting and studded on a gorgeous heart design held in the center. The diamond bracelet flaunts beautiful heart patterns at equal intervals on the polished metallic chain for added grandeur and finesse.
loading…
FOR YOUR SEVEN YEARS OF MARRIAGE
If you have been married for the last 7 years to the woman whom you cherish and love dearly, then the ideal gift for her this holiday season is a ring to define just that! Fascinating diamonds has this extraordinary ring with seven diamond stones each indicating the years you have spent together.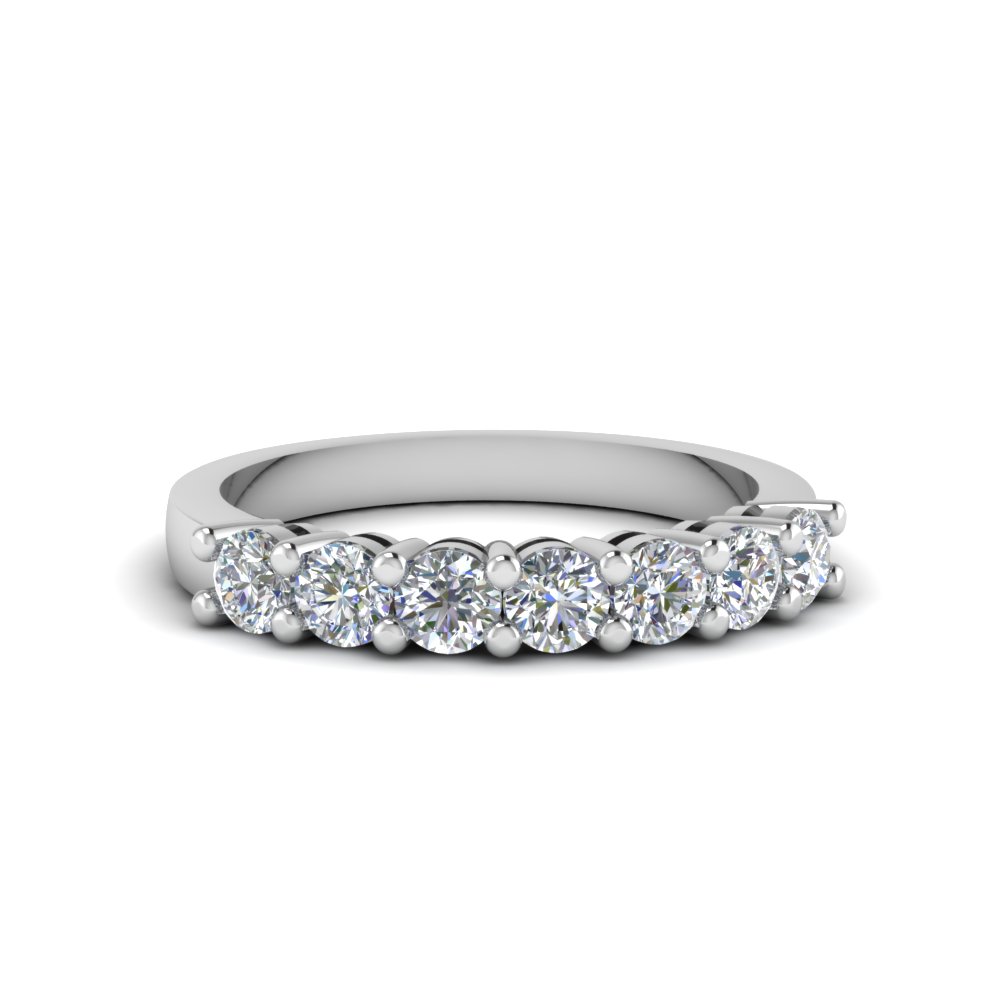 The seven stone diamond wedding band features round cut diamonds placed in a row in firm setting. The lustrous metal and luminous diamonds will add radiance to your female beauty. This ring is in durable 14k white gold and sparkles like a star.
loading…
AND OF COURSE, YOUR FIANCEE
If you are planning on popping the question this holiday season then be sure to woo your lady with the best ring you can ever find within your budget range. Please check her size before choosing the ring you want to propose to her with because then it will just get tricky. Here is a timeless design below to help you impress the woman of your dreams! This halo infinity engagement ring will help you do wonders with its luxurious finish and marvellous milgrain outline; this is the ultimate ring for prosperity.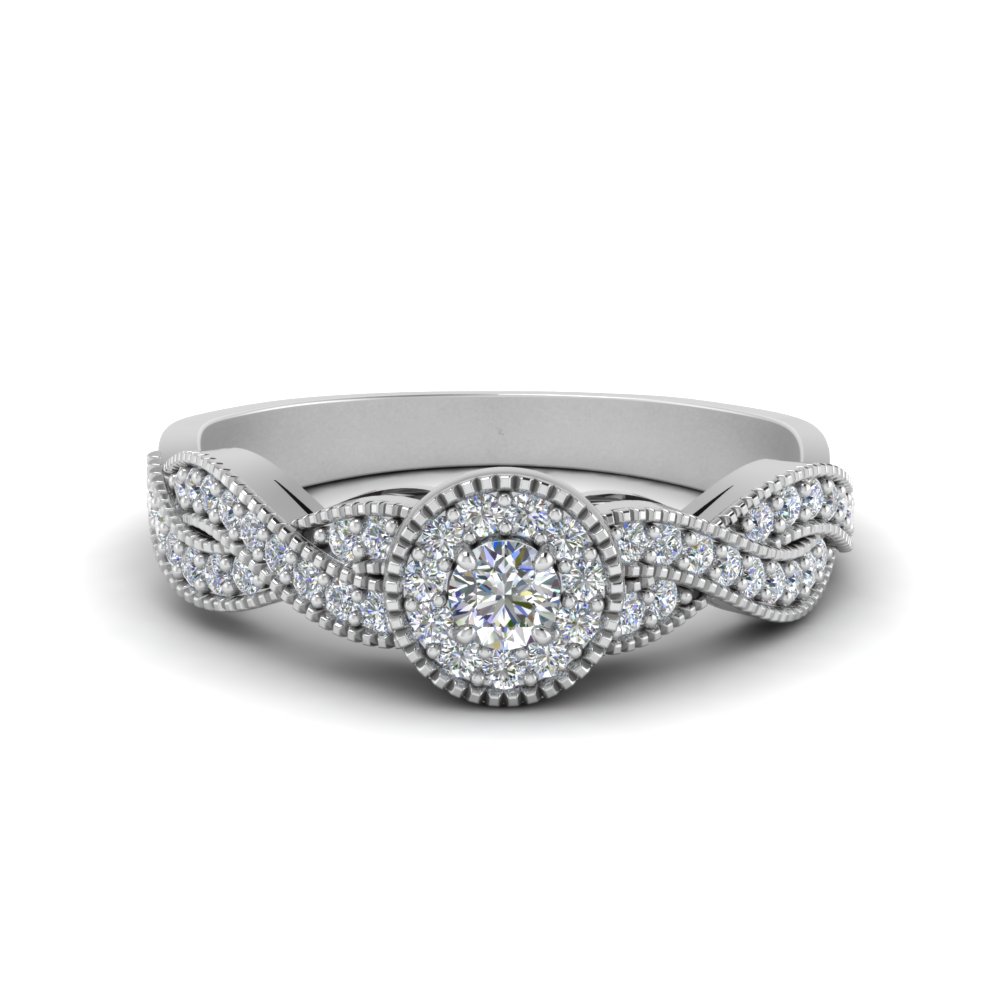 The Halo Infinity Engagement Ring augments a sparkling round cut diamond in the center encircled by small accent stones studded on a halo pattern beautifully. Further, the ring is adorned with an infinity shank embedded with tiny dazzling round shaped stones arranged excellently in a pave setting. This marvelous diamond ring is framed with a milgrain outline amplifying its unique design and beauty.
loading…
New Arrival